THe Nominees!
Congratulations to all of our 2011 Social Impact Campaign Award nominees! Your work to benefit the career advancement of people in poverty by sharing your professional expertise with the students and graduates of the Federation of Neighborhood Centers' job training program has made a real difference in your community.

We look forward to celebrating the achievements of all of the companies involved at our Awards Luncheon on February 2, where the final winners of each category will also be announced.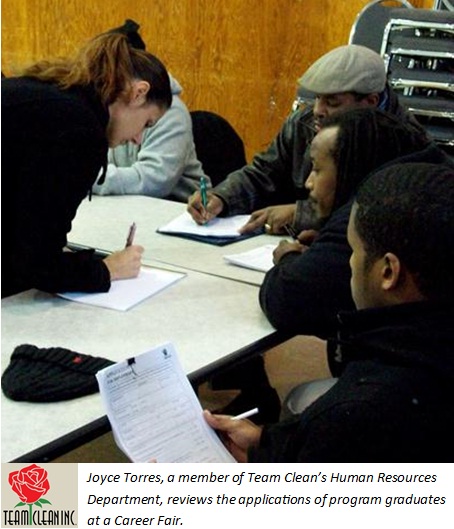 Check out who has been nominated below!

The Company Conscience Award for a company that is working to have a positive social impact.
American Infrastructure
Arthur Jackson Company
Brandywine Realty Trust
Honeywell Building Solutions
Liberty Property Trust
Mark Group
TN Ward
The Committed CEO Award for a company CEO/President that has personally devoted their time to having a social impact.
Ginger Kuczowicz, Holistic Homes
Michael Brown, Environmental Construction Services
Paul Spiegel, Practical Energy Solutions
The Community Leader Award for a company leader/representative that has shown an extraordinary commitment to the success of traditionally underserved Philadelphians.
Dawn Moody, Smart Energy Solutions
Donna Allie, Team Clean
William Reddish, G2 Inc.
The Exemplary Partner Award for the organization that has donated time and expertise to strengthening Philadelphia's unemployed workforce.
Aztec Solar
Deloitte LLP
Mayor's Office of Sustainability
The Ideal Employer Award for the company that showcases the highest standard of commitment to their employees.
Oliver Heating, Cooling, and Plumbing
Power Home Remodeling Group
Shoemaker Construction Company
The Outstanding Individual Leadership Award for an individual in a company that exhibited an exceptional level of service to their community.
Dana Kellum, Gary's Plumbing, Heating, and Mechanical
Fern Gookin, Revolution Recovery
Jim Bannon, Stelwagon Roofing Supply Company
Mitchell Swann, MDC Systems
Scott Sidlow, Orange Energy Solutions
The Visionary Entrepreneur Award for the entrepreneur who is committed to having a community impact as well as building a successful business.
Alan and Jan Rushforth, Rushforth Solar
Dave Robinson, Senergy Solar
Gabriel Mandujano, Wash Cycle Laundry
Want to learn more about what other companies have done? Visit the Sustainable Business Network's webpage. An excerpt from Deloitte LLP's story is below:

"The most memorable part of my volunteering experience was meeting people who wanted to take a decisive step aimed at improving their lives. The sense of purpose and desire to excel shown by [the participants of training program] pushed me to match up to their enthusiasm," said Vinay Lekharaju, a Deloitte LLP Information Management Consultant based out of Philadelphia. "Success in life comes through hard work, but more than hard work it is the right frame of mind, the desire, the determination and the perseverance which leads one to success."

It's not too late to get involved or do more!
Send us an open entry-level job posting
Interview or hire a candidate
Complete a less-than-10 minute survey to improve our curriculum
As always, don't hesitate to let me know if you have any questions and Happy New Year!

Sincerely,





Elizabeth Crampton
Partnerships Associate
Sustainable Business Network of Greater Philadelphia
One Penn Center at Suburban Station
1617 JFK Boulevard, Suite 1855, Philadelphia, PA 19103
o: 215-922-7400 Ext. 107 f: 267-233-1778

P.S. Sponsorship Opportunities Available. Contact Kate Houstoun for more information.