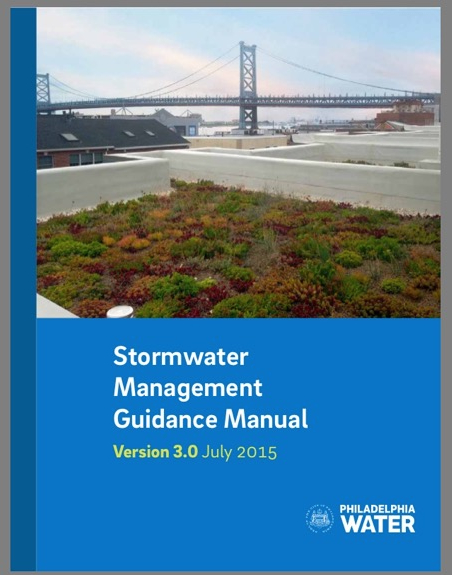 The new Stormwater Management Guidance Manual goes into effect today, July 1st.  Our Advocacy Committee has agreed that they want to conduct a formal review of and comment on this new Manual.  The goal is to highlight aspects of the Manual that support the prioritization of GSI as well as to identify areas that could be improved to better supports the prioritization of GSI.  This is an exciting and big task; the Advocacy Committee will be breaking the Manual up into its various sections and subsections, and invites members and other industry professionals to help with the process.  Our Plan Review Committee has already volunteered to help. Team work!
Additionally, the Advocacy Committee is following up on the Comment Letter we offered Philadelphia Water back in February 2015 in partnership with the NRDC and PennFuture, and with support from DVGBC.  The goal is to ensure that we fully understand Philadelphia Water's positions as they relate to the regulations and the Guidance Manual: what we heard PWD can do, what we heard is the intent of certain aspects of the Manual, what PWD believes is premature to do at this time, etc.  We also want to seek clarification on a few items and to invite continued conversation about how we can support Philadelphia Water in facilitating and prioritizing GSI as much as possible.
Lastly, the Advocacy Committee will continue to work with SBN's Policy Committee in developing a strategy to engage Philadelphia's next elected officials in the advancement of Green City, Clean Waters and the local GSI industry and innovation.