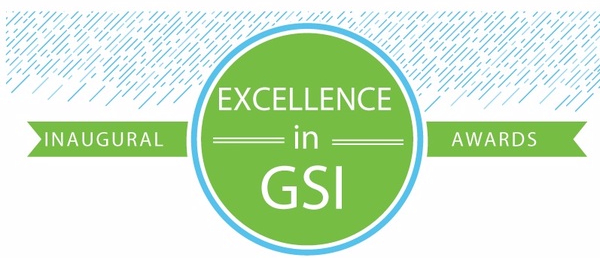 Congratulations to our three finalists for the Public Projects Category of the 2016 Excellence in GSI Awards Ceremony!
Finalists in the remaining four categories will be announced in the coming weeks:
Private Projects
Early Adopters
Research
Leadership
LEA ELEMENTARY SCHOOL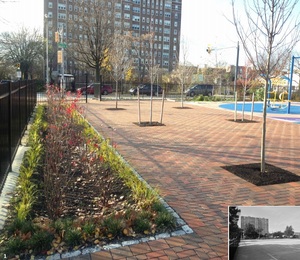 Renovations to Lea Elementary School concentrated on capturing and infiltrating stormwater, increasing tree canopy, and establishing a strong identity for Lea through a revitalized landscape.
More than 3,000 perennials, 35 shrubs, and 19 trees transformed a paved school yard into a dynamically performing landscape that offers 4-season appeal, habitat, and low-maintenance needs. 5,500 square feet of porous pavers help to further disconnect the school yard.
The project expanded hands-on educational opportunities for Lea students through applied learning in the earth sciences.
Location: Philadelphia, PA
Client: West Philly Coalition of Neighborhood Schools (WPCNS),
School District of Philadelphia (SDP)
Planning/Design Team: SALT Design, International Consultants, Inc., Meliora Design
Construction Team: ThinkGreen, LLC
Maintenance Team: SDP and WPCNS
Monitoring Team: Philadelphia Water
PENN STREET TRAIL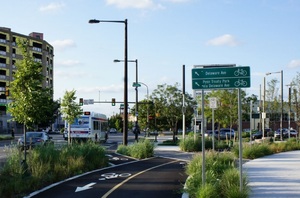 The goals of the Penn Street Trail were to encourage a healthy lifestyle by providing a safe, convenient, and enjoyable venue for active recreation along the waterfront; and promote and encourage the use of non-motorized forms of transportation. Stormwater management was not required, but GSI was incorporated in order to enhance the positive environmental and social impact of the project given its proximity to the Delaware River.
Effectively a pocket park, the trail reconfigured a section of Delaware Avenue to fully and safely separate pedestrians and cyclists from a major roadway. It improves access to the waterfront and extends the habitat along the Delaware River through the use of native plants in long linear rain gardens.
Location: Philadelphia, PA
Client: Delaware River Waterfront Corporation
Planning/Design Team: The RBA Group
Construction Team: AP Construction
Maintenance Team: Pennsylvania Horticultural Society, Delaware River Waterfront Corporation
LINWOOD PARK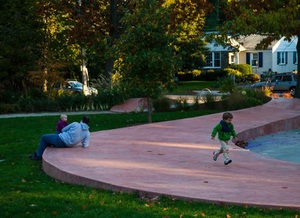 Lower Merion Township secured an Open Space Grant from Montgomery County in 2009 to purchase a one-acre private parking lot. They transformed the property into Linwood Park, a unique public place that merged civic and recreational activities, managed stormwater, and offered educational opportunities for children and adults.
Linwood Park maximizes environmental and social benefits for the surrounding neighborhood by managing all runoff on-site, dramatically reducing impervious surface, showcasing a wide variety of native plants for ecological and educational value, and making the stormwater management features visible and accessible for play and learning.
Location: Ardmore, PA
Client: Township of Lower Merion
Planning/Design Team: SALT Design Studio, Studio Gaea, and Yerkes Associates
Construction Team: Puhl's Landscaping
Maintenance Team: Lower Merion Township and Friends of Linwood Park
Winners will be announced at the Excellence in GSI Awards Ceremony on March 31st, after a poster reception honoring the finalists in each category.
Looking forward to seeing you at the ceremony!

2016 Excellence in GSI Awards Ceremony
Thursday March 31 2016, 6:00-9:00pm
WHYY Public Media Commons
150 North 6th Street
Philadelphia, PA 19106
| | |
| --- | --- |
| | THANKS TO OUR GOLD LEVEL SPONSOR |
| | |
| --- | --- |
| | THANKS TO OUR SILVER LEVEL SPONSORS |
| | |
| --- | --- |
| | THANKS TO OUR DIAMOND LEVEL SPONSORS |
Want to see your logo here? Contact us to learn about sponsorship opportunities!