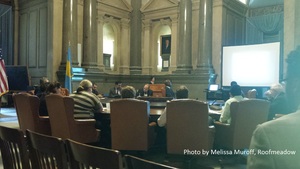 On February 24th, SBN briefed Philadelphia City Council on the Economic Impacts of Green City, Clean Waters: The First Five Years. The briefing, hosted by Philadelphia City Councilman-at-large Derek S. Green, provided Council members and staff with the opportunity to hear a summary of the report's findings as well as first-hand perspectives from local green stormwater infrastructure (GSI) businesses.
Anna Shipp, Project Manager of the GSI Partners, gave an overview of the report's background and findings before introducing our panel of business case studies. Joining SBN were three GSI Partners – Tavis Dockwiller of Viridian Landscape Studios, Catie Wolfgang of PowerCorps PHL, and Lou Rodriguez of Rodriguez Consulting, LLC – who shared compelling testimony about the benefits of the program. Tavis spoke about how Green City, Clean Waters (GCCW) has created positive changes in the schools and communities where she has worked. Catie spoke about how the program has offered opportunities for the youth served by PowerCorps. And lastly, Lou expressed how GCCW has created more chances for local businesses to contract with the City in addition to the ways in which the City's procurement process should be improved to facilitate small business participation.
SBN also shared recommendations for improving GCCW including greater interagency coordination and new incentives to spur additional private sector investment in GSI. "Existing incentives, such as the Green Roof Tax Credit, have provided a boost to the local GSI industry," said Policy and Advocacy Manager, Saleem Chapman. "But there remains a need for complementary efforts to effectively encourage more development in the private sector. A density bonus for the completion of GSI projects is an example of this."
Speaking about the outcome of the briefing, Anna said, "This was a unique opportunity to educate Council about the benefits of the program and further the dialogue about how to fully leverage its triple-bottom-line benefits. But the conversation can't end here."
Local Economic Impact Report Now Available

SBN released a new report assessing the Local Economic Impact of the First Five Years of Green City, Clean Waters earlier in February. This highly anticipated report, executed by Econsult Solutions, has attracted interest from many local, regional, and national organizations, as well as members of City Council. 
This report assesses the local economic impact of the first 5 years of Philadelphia's comprehensive stormwater management plan, Green City, Clean Waters.  Using the GSI Partners as a proxy for the larger industry, the report shows local economic growth is resulting from the public and private investments in GSI that are being catalyzed by the plan.
The report conservatively estimates that over the life of GCCW, investments in GSI are projected to produce a $3.1 billion impact in the Philadelphia economy, supporting roughly 1,000 jobs per year and generating $2 million per year in local tax revenues.